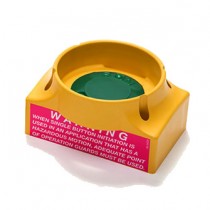 Advantages:
Auto-adjust sensitivity on power up

No manual sensitivity adjustment 

Automatic drift compensation, sensitivity not effected by tempered, humidity or voltage variation.
Automatic reset and auto calibration if object is detected continuously for more than 60 seconds
Easy to install, no additional relays required – repeated
Easy to install, no additional relays required.
The  ISB Sof-Touch-2 Palm Button is the gentle way to initiate your machine's cycle. Sof-Touch-2 is a totally self-contained direct replacement for conventional mechanical spring loaded palm buttons. Sof-Touch-2 ergonomic palm buttons require no physical pressure to initiate a machine cycle, therefore they substantially reduce repetitive motion trauma such as carpal tunnel syndrome.
Why use Sof-touch 2
The current method of simultaneously pressing hard on two spring loaded mechanical buttons in order to initiate the cycle of a machine has been discovered to case a serious wrist injury known as "Carpal Tunnel Syndrome".
Sof-Touch eliminates the need to press. Simply touching the green detection zone generates the start command.
This gentle motion of the hand and wrist virtually eliminates all stressful and strainful forces associated with pushing mechanical buttons.
Ordering Information
| ISB part # | Description |
| --- | --- |
| ST2-0001-00 | Sof-Touch2 ergonomic button, closed ring guard, with mounting hardware |
| ST2-0001-90 | Sof-Touch2 ergonomic button, open ring guard, with mounting hardware |
| ST2-4000-00 | Set of ST2-0001 4"x4"x30" TROUGH |
| ST2-4100-00 | Set of ST2-0001 4"x4"x30" TROUGH with E-STOP button |
| ST2-4200-00 | Set of ST2-0001 4"x4"x30" TROUGH with E-STOP, TOP STOP and PRESET buttons |
Brochures

Softouch2 Brochure
* You have to Login or Register to see this documents
Installation Manuals

Softouch2 user and installation manual
* You have to Login or Register to see this documents
Softouch Hole Dimensions

Softouch2 mounting hole template
* You have to Login or Register to see this documents