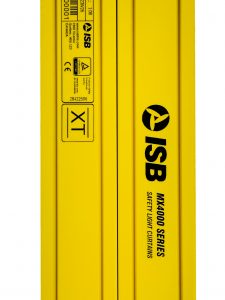 The ISB MX4000 Extended Range series of Light Curtains are Type 4 Active Optoelectronic Protective Devices (AOPD)
Specific features of the MX4230 -XT light curtain
XT Emitter & Detector models scan up to 23 meters (75 feet)

30mm Detection Capability

Protective height: 300mm (12") to 1200mm (48")

Full featured light curtain including Smart Blanking & Floating beams

Merlin 4000 compatible

Multi-sided guarding using ISB Mirrors
3
Some common applications:
Large Tandem Press Brakes

Automatic or semi automatic assembly lines

Packaging and welding machines

Robotsand robotic applications
Intended Application
Hazardous point, area and access protection at machines.
The devices comply with the requirements of the relevant (Type 4 acc. IEC 61496-1/2, Cat. 4 / PL e acc. to EN ISO 13849-1, SILCL 3 acc. to EN 62061 / IEC 61508) and can be used in applications up to Cat.4/ PL e acc. to EN ISO 13849-1 and SIL 3 acc. to EN 62061 / IEC 61508.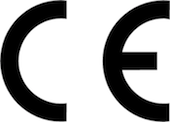 Compliant with the following standards:
IEC 61496-1:2012 

IEC 61496-2:2006 

EN ISO 13849-1:2008 + AC:2009 

EN 62061:2005 

IEC 61508 Parts 1-7:2010 

IEC 60204-1:2009 

EN 50178:1997 

ANSI B11.19:2010 

ANSI/RIA R15.06:1999
Common features of MX4130-XT and MX4230-XT light curtains
Supply voltage: 24 VDC

Enclosure rating (IEC 60529): IP65

Operating temperature: 0 °C to 50 °C

Detection capability:

30 mm for hand protection
Protective field height: 300 mm to 1200 mm

Typical Range 20 Meters: 20 Meters/ 65 Feet

Maximum range : 23 Meters/ 75 Feet

Start/ Restart Interlock, selectable.

EDM: External Device Monitoring, selectable.

OSSD two separate safety outputs.

Easy set-up, no separate software or computer required

Individual indicators for each beam

Solid Aluminium enclosure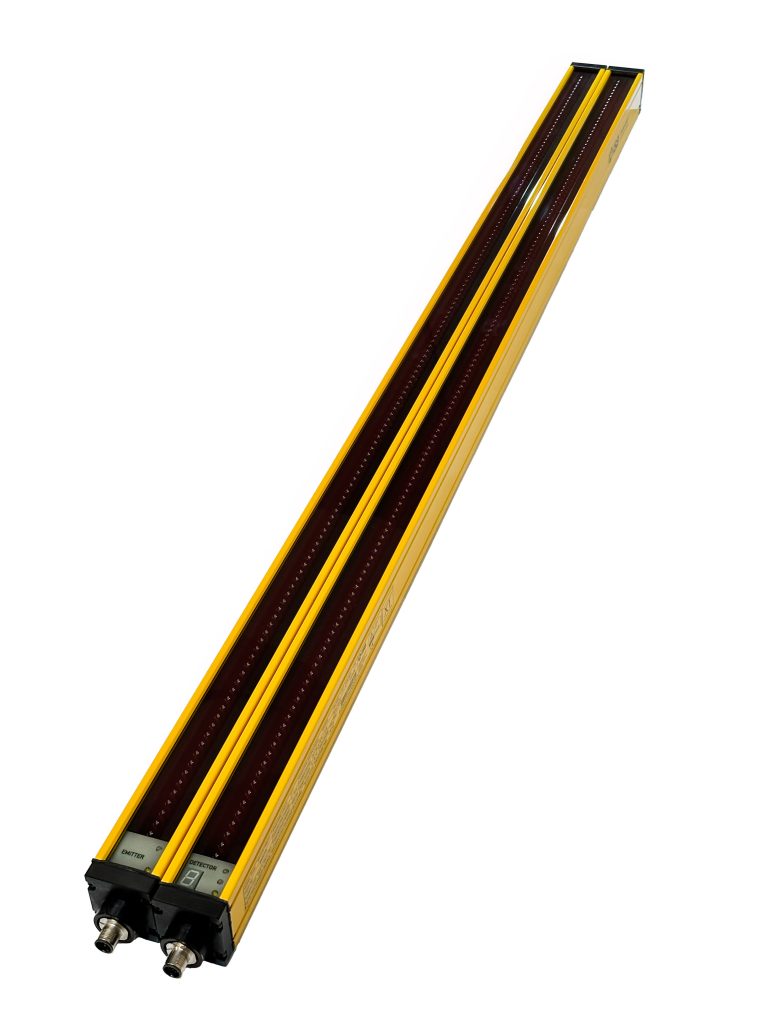 Interface
All operational parameters of the MX4000-XT series of light curtains can be configured according to the specific requirements of the end users using the MX4000-PT unit. With this simple and reliable tool, the user may program parameters for blanking, muting and other functions without the use of computers or additional software.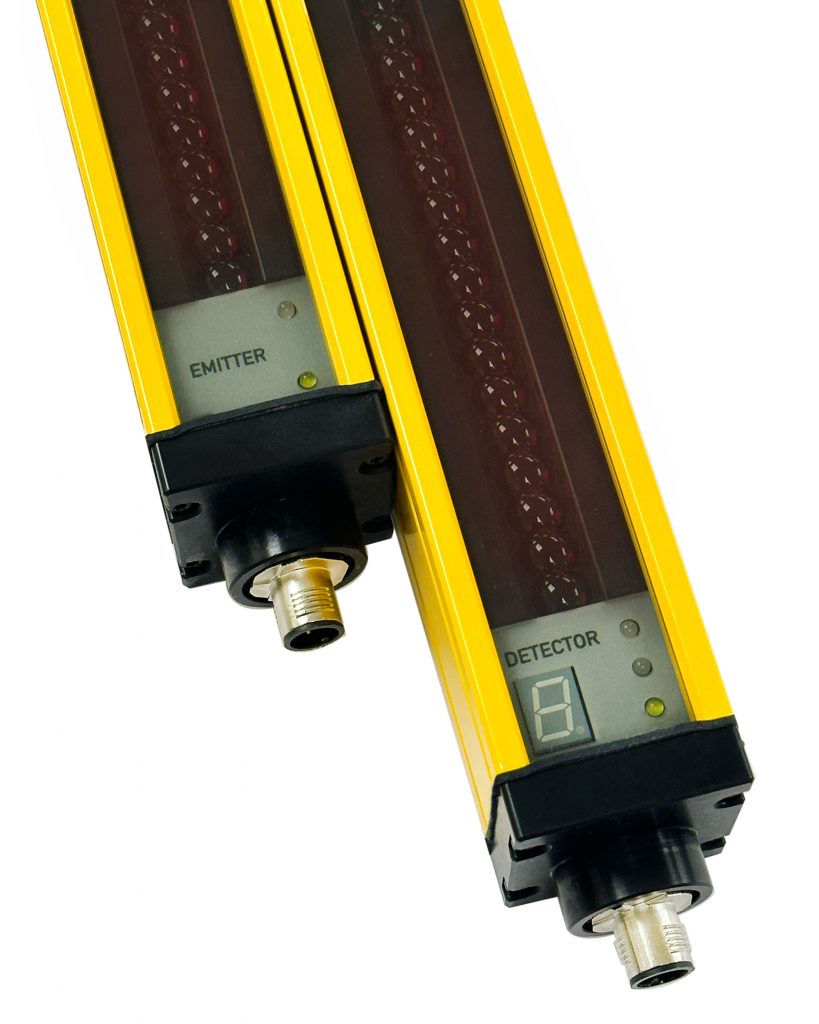 Indicators

The MX4000-XT series of light curtains are designed with multiple indicators to facilitate its use and indicate the status of the unit at any given time.
3 Bright LED indicators
Red/green for status

Blue solid indicates active blanking mode

Blue flashing indicates muting

Yellow solid indicating Lock-out condition

Yellow Flashing for interlock condition is engaged

Each beam has its own red status indicator on the detector unit

Red Beam status indicators also designate the blanked-out region by blinking

7 Segment Display indicates light curtain current state.
Model designation:  MX4"M"30-"H"-XT
Where:
"M" (model) is 0 (emitter), 1 (basic detector) or 2 (advanced detector, blanking and muting capabilities)
"H" (protective field height) is 300, 450, 600, 750, 900, 1050, or 1200.

Ordering Information
ISB part #
Description

MX4030-[LENGTH]-XT

MX4000 Extened Range Emitter unit
Detection capability: 30 mm
[LENGTH] = Field Length (300, 450, 600, 750, 900, 1050, 1200 mm)

MX4130-[LENGTH]-XT

MX4100 Detector unit
Detection capability: 30 mm
[LENGTH] = Field Length (300, 450, 600, 750, 900, 1050, 1200 mm)

MX4230-[LENGTH]-XT

MX4200 Detector unit
Detection capability: 30 mm
[LENGTH] = Field Length (300, 450, 600, 750, 900, 1050, 1200 mm)

JB4

4 port Junction block and cable assembly for MX4100 (1.5 m cable with 12-pin M12 connector)

JB5

4 port Junction block and cable assembly for MX4200 (1.5 m cable with 12-pin M12 connector)

JB6

6 port Junction block and cable assembly for MX4200 (1.5 m cable with 12-pin M12 connector)

02-4007-04

Mounting brackets for MX4000 series with damping mounts, set of 4, split collar, plastic.

02-4014-04

Mounting brackets for MX4000 series with damping mounts, set of 4, split collar, steel.

MX4100-PT

Parameterization/Teach-in Tool with pass-through connectors for MX4100

MX4200-PT

Parameterization/Teach-in Tool with pass-through connectors for MX4200

MX4000-PB

Parameterization/Teach-in Tool with pass-through connectors for MX41000/MX4200 (connects to a junction block)

22-4004

Safety relay, 22-4004, 24 V DC, DIN rail mounting.

22-4002

Safety relay, expansion module (4NO, 1NC), (SAFE X4.1).

31-4001

Power supply, 24 V DC, 1.75 A, universal input (100 .. 240 V AC), DIN rail mounting W 54 mm, H 90 mm, D 61 mm
Brochures

MX4000 series light curtains brochure
* You have to Login or Register to see this documents
Installation Manuals

Installation Application Note AN-0001

Installation Application Note AN-0002

Installation Application Note AN-0009
* You have to Login or Register to see this documents
Manuals

MX4000 user and installation manual

MX4000 Parameterization Quick Guide

MX4200 Blanking Quick Guide
* You have to Login or Register to see this documents