MERLIN 4000 - PRESS BRAKE GUARDING SYSTEM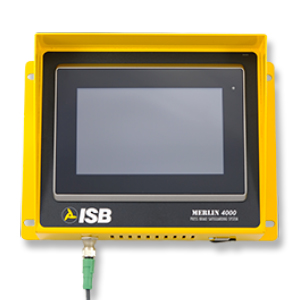 The Merlin 4000 design utilizes a rugged 7 inch touch screen based HMI Controller with step-by-step operator prompting messages in English, Spanish and French for easier use.   Each controller allows for nearly unlimited job storage as well as back-up and restore capability using a USB Memory Stick, making this today's most advanced press brake guarding package. 
This new system is designed to easily upgrade our older Merlin installations produced over the past 25 years with minimum effort and easily retrofits on new installations of all types of press brakes. 
•

New compact touch screen based HMI panel for easier use.
• 
Unlimited job storage with job sharing.
• Each job can have up to 99 steps.
• Easy jobs back-up & restore using a USB memory stick.
• USB & Ethernet networking capability.
• Select-stop programmable stroke stop for each step to allow efficient bending of small or narrow parts. *optional items may be required.
• Password protected set-up and supervisor levels.
• Operates exclusively with ISB's MX light curtain columns, either 14 mm or 22 mm detection capability, and a maximum of 10 meters of coverage.
• Built-in light curtain muting using  two external inputs.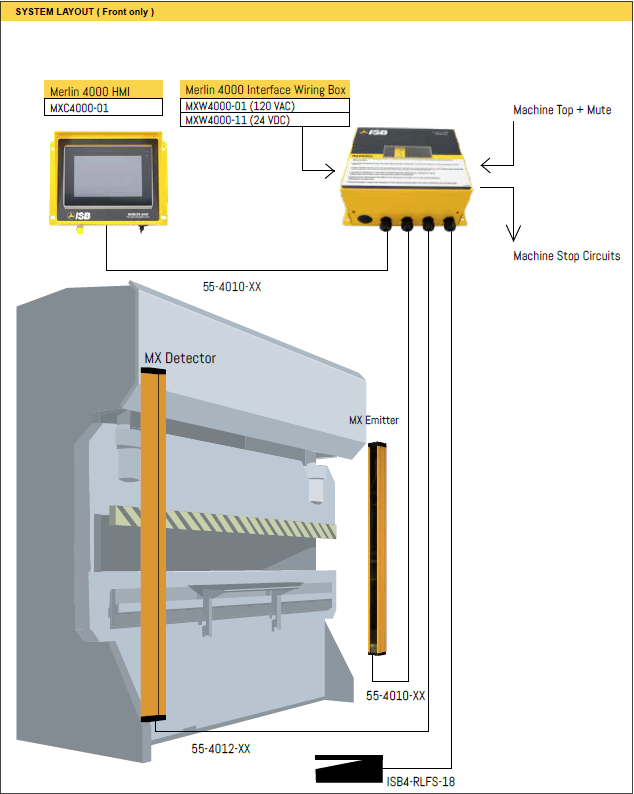 Press brakes are difficult machines to guard, simply because the part's flange profiles generally changes from step to step during the fabrication process. A standard safety light curtain can not provide protection because of these varying part profiles. Only the unique MERLIN concept, pioneered by ISB, can learn each flange profile while making your initial sample part and automatically create a window exactly the proper size required for each specific cycle. This opening may change from stroke to stroke automatically, completely determined by our processor, not your operator or set up personnel.
The Merlin 4000 HMI works in conjunction with our Merlin MX column's, Junction block, and the Merlin MX Interface box.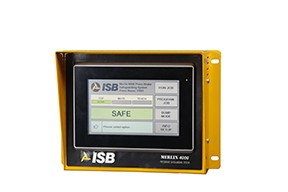 • Easy teaching of the part flanges and support arms by simply following the HMI's step by step instructions and pressing the provided remote learn foot switch as initial sample part is being fabricated.
• Part flanges are dynamically monitored to prevent teaching of fake parts / operator abuse / permanent blockages.
• Stationary support arm size limits to prevent abuse. (adjustable & password protected)
• Floating beam to allow flat sheets of metal without flanges to pass through the light curtain.
• Blanking tollerance to allow for slight misposition for taught flanges.
• On screen diagnostics / troubleshooting.

• Each beam of the light curtain uses an indicator LED to display a blockage, and a blinking LED to show the size and location of the taught flange
during each step.
• Bumping mode is included to allow for bending of the cones, cylinders or other one of a kind off shaped parts.
• No significant addition to set-up time
• No altering of rapid advance or slow speed of press brake.
• Can be used on any type of press brake. (mechanical, hydraulic, servo-brakes, up-acting or down acting)
• Available in English, Spanish and French.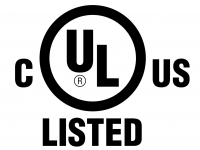 Ordering Information
| ISB part # | Description |
| --- | --- |
| MXC4000-01 | Merlin 4000 HMI |
| ISB4-RLFS-18 | Remote learn foot switch, with 18' cable |
| MXW4000-01 | Merlin 4000 wiring box 120 / 240VAC Input. Includes: Internal power supply, 1 safety relay for 1 set of MX4000 light curtains. |
| MXW4000-11 | Merlin 4000 wiring box 24 VDC Input. Includes: Internal power supply, 1 safety relay for 1 set of MX4000 light curtains. |
| MXW4000-02 | Merlin 4000 wiring box 120 / 240VAC Input. Includes: Internal power supply, 2 safety relays for 2 sets of MX4000 light curtains (front and rear protection). |
| MXW4000-12 | Merlin 4000 wiring box 24 VDC Input. Includes: Internal power supply, 2 safety relays for 2 sets of MX4000 light curtains (front and rear protection). |
| MXW4000-03 | Merlin 4000 wiring box 120 / 240VAC Input. Includes: Internal power supply, 1 safety relays for 1 set of MX4000 light curtains and 1 Safety Mat (FAB-MAT) controller (front and rear protection). |
| MXP4000-01 | Merlin 4000 interface PCB, supporting 1xMX4200 system, Merlin4000 HMI and press brake interface inputs. Includes DIN rail mounting hardware. |
| MXP4000-02 | Merlin 4000 interface PCB, supporting 1xMX4200 system, Merlin4000 HMI and press brake interface inputs plus additional 1xMX4100 system. Includes DIN rail mounting hardware. |