The ISB GPA Dual Safety Valves are designed with an intrinsically dynamic safety control system that meets or exceeds European Standard EN-692, OSHA and ANSI Requirements for use on pneumatically operated power presses. These dual safety valves are ruggedly constructed and have European Safety Certification that exceeds many of the other competitive brands of valves on the market, and yet the GPA Valves are affordably priced.
The ISB Valves continuously internally monitor themselves with each operation. In the event that the valve detects a malfunction, the valve will self-lock and will only reset itself when power is removed and the normal operation is restored. An auxiliary external pressure monitoring system with manual reset is available as an option. Two optional pressure switches are required for this option.
The ½", ¾" and 1″ Valves are available in stock for immediate delivery. Dual Safety Valves are supplied standard with 120 VAC Solenoids and connectors with built-in varistors. Optional 24 VDC Solenoids can be provided.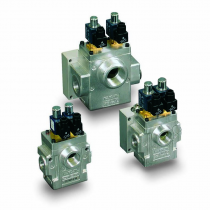 Ordering Information
| ISB part # | Description |
| --- | --- |
| 56-3010-110 | 1/2" GPA Valve 313MEPA50 (1/2" operating port, 3/8" supply port, 1" exhaust port, 110VAC) |
| 56-3010-220 | 3/4" GPA Valve 314MEPA52 ( 3/4" operating port, 1/2" supply port, 1" exhaust port, 110VAC) |
| 56-3010-330 | 1" GPA Valve 316MEPA50 (1" operating port, 1/2" supply port, 1.5" exhaust port, 110VAC) |
| 56-3010-40 | 1/2" GPA Valve 313MEPA50 (1/2" operating port, 3/8" supply port, 1" exhaust port, 24VDC) |
| 56-3010-50 | 3/4" GPA Valve 314MEPA52 ( 3/4" operating port, 1/2" supply port, 1" exhaust port, 24VDC) |
| 56-3010-60 | 1" GPA Valve 316MEPA50 (1" operating port, 1/2" supply port, 1.5" exhaust port, 24VDC) |
| 56-3015-001 | Pressure Fault Monitor switch for all above valves. (2 required per valve) Price provided is per unit |
| 56-3020-02 | GPA Air valve for 1" exhaust muffler (for 1/2" and 3/4" GPA valves) |
| 56-3020-03 | GPA Air valve for 1.5" exhaust muffler (for 1" GPA valves) |
| 56-3010-24-DC-1 | GPA Valve 1/2" 24 V DC solenoid kit (2 per valve) |
| 56-3010-24-DC-2 | GPA Valve 3/4" 24 V DC solenoid kit ( 2 per valve) |
| 56-3010-24-DC-3 | GPA Valve 1" 24 V DC solenoid kit ( 2 per valve) |
| 90-2050-01 | GPA Valve wiring box |
Manuals

GPA valve user manual
* You have to Login or Register to see this documents
Technical Documents

GPA valves spec sheet
* You have to Login or Register to see this documents