MX LIGHT CURTAIN INTERFACE BOX
The MX Light Curtain interface boxes are designed to perform an easy and fast installation of ISB's Merlin 4000 and MX Light Curtain systems. These interface boxes come with all internal components pre-wired, 1 up to 4 safety relays and 24 VDC power supply (optional).
They come in different models depending on the application, please refer to the table below to select the right model. Please click on the blue colored boxes to open a PDF version of the corresponding installation drawing.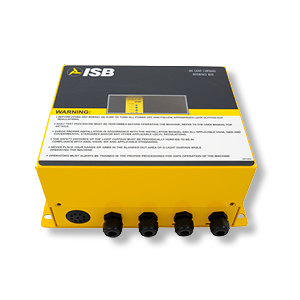 Choosing the right interface box for your application.
Click on the blue boxes to find the corresponding PDF drawings
Installation Manuals

MXW4000 installation and specs
* You have to Login or Register to see this documents
3D Models

Merlin 4000 Interface Box

MX Mounting Brackets Rev 2
* You have to Login or Register to see this documents
Certification

UL Certificate

Wiring Box EU declaration of conformity

Light Curtain EU declaration of conformity
* You have to Login or Register to see this documents