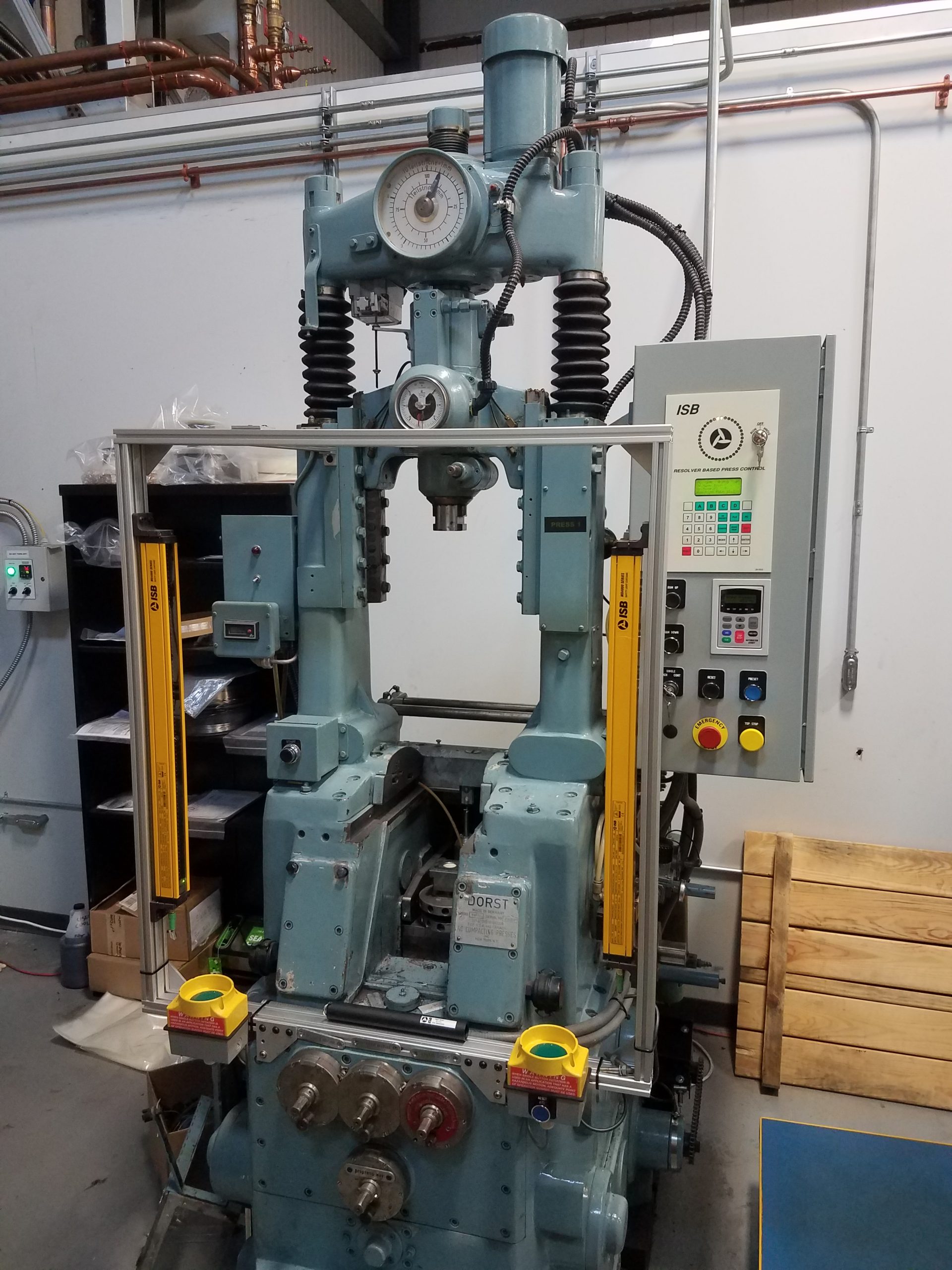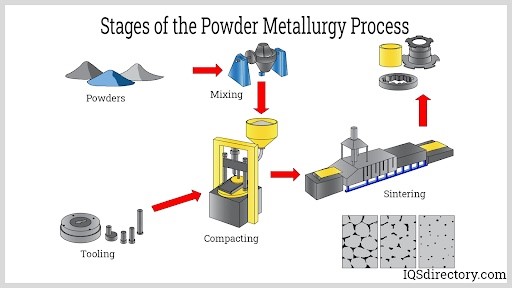 A Dorst Powder Metal Compaction Press is retrofitted with a new ISB RBPC Controller and Safety Lights.
It has been nearly 50 years since ISB introduced the first infrared safety light curtain designed and built in North America.  The vast majority of our installations were directed towards the sheet metal fabrication and stamping industries.  However, our ruggedly designed products are successfully used in many other industries, including the powder metal compaction industry.  For those of you that might not be familiar with the powder metallurgy process, please see the provided photo outlining the process.  These machines press powder metals and alloys in a rigid die under extremely high pressure.  Precision and intricate parts such as gears, bushings, bearings, and a vast number of other parts are made using this process.   Once the powder is compressed in to shape it is sent through a sintering process to bond the powder particles together.  These powder metal presses have many of the same considerations for control reliability, automation, and point of operation guarding.  
The impressive installation featured in this article was recently completed by one of ISB's leading distributor / integrator, JM Engineering; http://www.jmengineering.com ,  North Attleboro Massachusetts.  Not only did they install the ISB MX Safety Lights, Sof-Touch-2 Ergonomic Palm Buttons, and the RBPC Press Controller on this old Dorst Press, they also engineered and built the new electrical panel and completely rewired the press.  
Dorst Powder Metal and Ceramic Compaction presses have been around since the late 19th century and there are more than 3000 of them in use.  There are also a number of other manufacturers of powder metal presses, such as Gasbarre,  Macrodyne, Ajax, Beckwood,   just to name a few.  
Please feel free to contact us to learn more about our products or to find your local distributor, visit our website; www.isblite.com     
Tony Caruso
Vice President of Sales & Marketing
(Cell) 203 331-3938
Website; www.isblite.com 
E-mail; tonyc@isblite.com