Making it safe; 2021 in review and much more to look forward to in 2022!
The past two years have been challenging in every way possible.  Beyond the tragedy of so many lives lost because of the pandemic, it has also caused havoc to our personal and business lives in every way imaginable.   Our children were forced out of the classrooms and sent home in order to stay safe.   Within weeks, the schools adapted to remote learning by using technology such as Zoom Meetings to establish a virtual classroom.   At the same time, parents had to scramble to provide for childcare, forcing millions to leave the workforce and many aren't coming back.  Large portions of our industry's factory workers were laid off while machines sat idle.   With the successful development of vaccines and booster shots, hopefully Covid is in our rear-view mirror.  If there is any silver lining to the dark cloud caused by the pandemic, it is that we all have learned how to adapt and find ways to conduct business virtually.   Based on the number of successful sales calls and installation assists done using Zoom or Team virtual meetings, there is no doubt in my mind that our way of doing business has changed forever. During the time we were grounded from traveling, we have worked hard to make sure that we are prepared for the ever-changing future.   I would like to take this opportunity to make sure everyone is aware of the numerous and significant improvements made this past year and to ensure that each of you has a positive experience working with the ISB line of safety equipment.
Website updates.
We have made a commitment to prioritize developing our web site.   This important step allows our customers to access every brochure, user manual, wiring diagrams, or any other document at their convenience, 24 hours a day and 7 days a week.   In order to organize the hundreds of potential documents, we grouped items by product category.  Once you go to any product's page, you will find all the respective downloads alongside each page.    We will also keep the most up to date version of each brochure or manual on the web site, so please update your files kept on your personal computer regularly in order to always have access to the latest version.    We are committing resources to always keep our website running efficiently and up to date, as well as to use it as our primary communication tool, so please encourage everyone involved with selling, installing, maintaining or using ISB to register for a username, password and our newsletter to stay well-informed.  If you haven't been on the website lately, take a moment to see for yourself.  http://www.isblite.com    Also note that we now have a drop-down menu at the top of the page to choose between English, Spanish, and French.  
MERLIN 3000 PRESS BRAKE GUARDING.
After over 25 years of excellent service, the MERLIN 3000 was retired earlier this year along with the entire MT Series of Safety Light Curtains.  Those of you that are using these products shouldn't panic.  We will have spare columns, controllers and parts for years to come. 
MERLIN 4000 PRESS BRAKE GUARDING BROCHURE.
The MERLIN 4000 Press Brake guarding has rapidly become the industry's premier light curtain-based press brake guarding System.  By utilizing ISB's MX4000 Light curtains that are CE / TUV Type 4 Certified safety product and color touchscreen HMI, we have achieved the ultimate in press brake guarding.  We recently have released the 3rd revision of the MERLIN 4000 brochure.
MERLIN 4000 VIDEOS.
We are pleased to have introduced two new animated videos this year and we have plans for additional topics in the near future.   They can be found under the "VIDEO" drop down tab on the website's home page.   
This first link is an introductory sales video. https://youtu.be/Ex9ojgXYORA
The second video produced this past year is the first in a series of training video's that shows a how to program a part with varying flange sizes. https://youtu.be/JJ0VFInb_SI
ISB FAB-MAT 2 BROCHURE.
We recently updated the Fab-Mat brochure to more accurately describe the features of our safety mat and formally introduce the Fab-Mat-2 Controller, that now has CE, TUV, & UL Certifications.
ISB DIE SAFETY BLOCK NEW MINI SIZE & UPDATED BROCHURE.
A new "MINI SIZE" die safety block was also added this year.  This block is only 1.5″ in diameter, yet it can support 15 tons of static load. This is perfect for small presses, where space is at a premium.  Our
ISB Die Block Brochure
was updated to reflect this new addition to the family of die blocks.  
ISB TYPE 4 SAFETY LIGHT CURTAINS, NEW FEATURES & BROCHURE.
The MX4000 Series of ISB's Safety light curtain design is as solid as a rock and its features and accessories have been developed to withstand the conditions often found around the machinery that we safeguard.  Our custom-made mounting brackets, mirrors & new floor mounting pedestals have been added to our newest version brochure.  In addition, we developed a complete line of wiring boxes to simplify the installation of the MX 4000 Series light curtains to our safety relays and power supplies.  See all these new items in
ISB's newly expanded Type 4 light curtain brochure.
ISB TYPE 4 SAFETY LIGHT CURTAINS, "HOW TO" STEP BY STEP BEAM BLANKOUT AND PARAMETERIZATION GUIDES.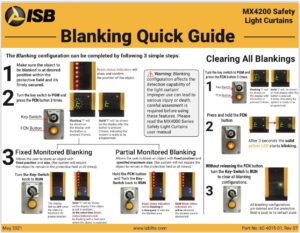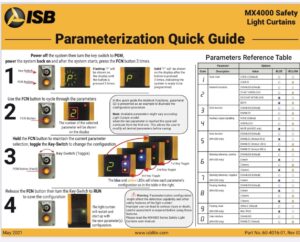 NEW ISB PRODUCT LINE CARD
A brand-new product line was created that allows for easy e-mailing or integration to our distributor's web sites.   This also acts as a practical handout for salesmen to leave as part of a sales call.  The line card is equipped with QR Codes and allows for easy access to the full brochures.  We are trying to do our part to keep our planet green.    This product line card is available in English, Spanish, or French.   If any of the ISB Distributors want this document customized with their own contact information, please let me know and provide your logo artwork and contact details and we will provide the modified document for both e-mailing as well as a version with crop marks for digital printing locally.  
  HAPPY HOLIDAYS!
  ISB will be closed from December 24th through January 2nd in order to allow our entire team the opportunity to enjoy the holiday season with their families.  We will re-open for business on January 3rd, 2022.  Please take this holiday break into consideration when placing orders that have to be installed around the holidays. If anything arises that needs immediate attention during the holiday break, feel free to contact via e-mail or my cell phone listed below.
     On behalf of the entire ISB Family, I would like to extend our sincerest wishes for a holiday season filled with happiness for you and your loved ones, and a new year filled with joy, prosperity, and peace.
Happy Holidays!
Tony Caruso
Vice President of Sales & Marketing
ISB / Merlin
E-mail; tonyc@isblite.com
Website; www.isblite.com
(Cell) 203 331-3938
Twitter:  @tonymakesitsafe